Updated as of October 23, 2023
Fake bright blue, cloudy skies. Sleek wavy, water-like floors. When-in-Rome architectural statues and storefront shops. Chanel No. 5 mixed with cigarette smoke floats through the air as if an intentional wallflower scent. A woman screams and bells ring through your ears– someone just hit jackpot. You can still taste the Oreo crumble from the Oreo Dream Extreme Cheesecake you recently finished eating at Cheesecake Factory. As you walk through this surreal environment in Las Vegas, Nevada, it almost feels like you are at a theme park – logomania. With designer names and logos on either side of you, the window displays are more like fantasy mirrors. Mannequins draped in beautiful garments – you can see yourself wearing. The combination of high fashion and a fake Rome setting has you caught up in your dreams. You're here for a reason. You got your heels, outfit, and overall aesthetic set to Vegas standards, but you're missing a truly eye-catching, conversation-starting accessory. You're missing an It bag.
As you pass by various clothing and shoe stores you come across Urban Necessities. Bright white floors and ceilings, a shoe wall, and stairs leading to a second floor – you HAVE to go inside! After looking around for a bit, you stop dead in your tracks. You CAN'T be seeing this right – Saturday House #YFLTB Bags placed elegantly on the shelves of this shop?! This isn't real?... Is it?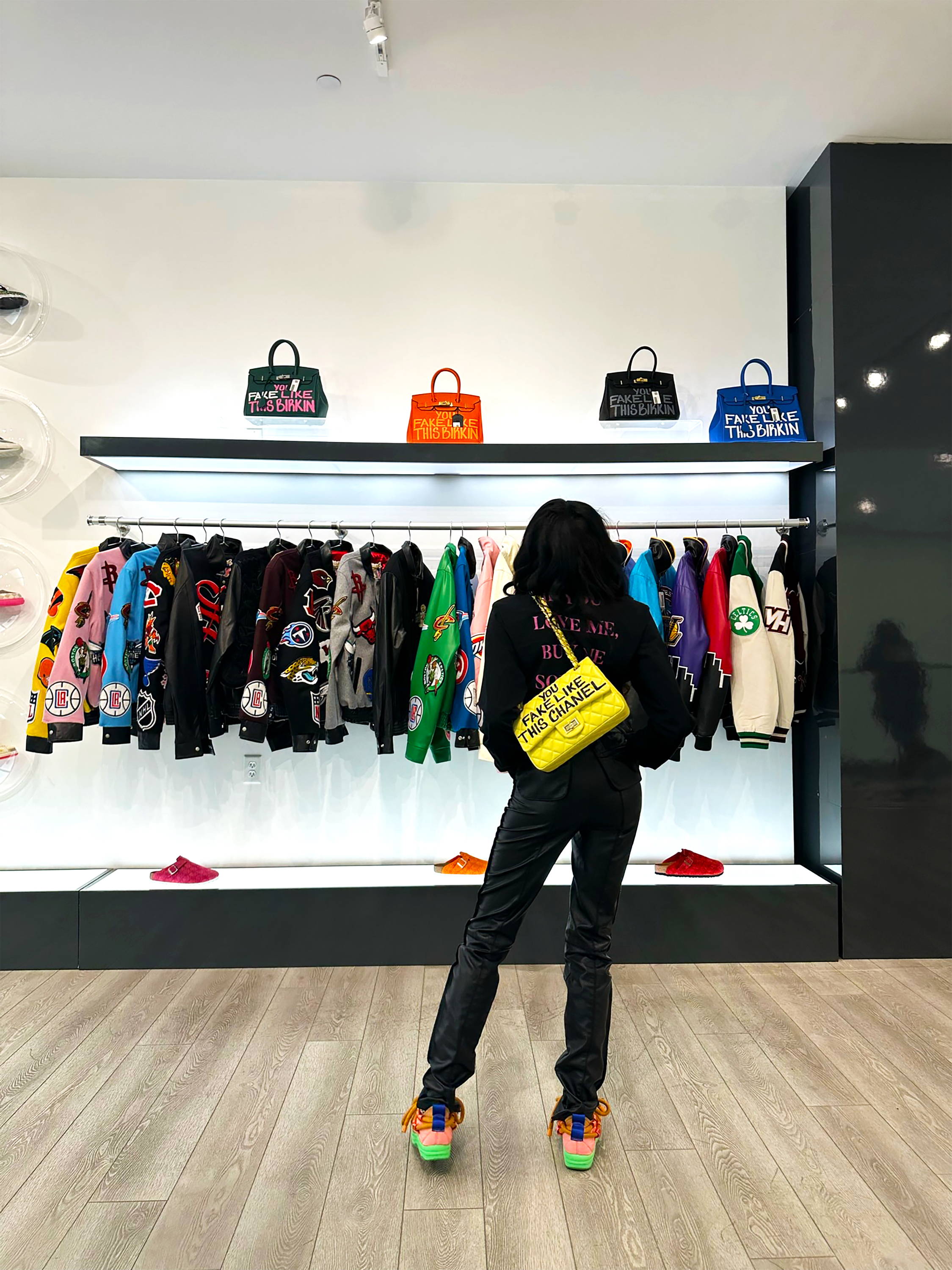 You heard that right, we are officially available in-stores! Saturday House has partnered with Urban Necessities in The Forum Shoppes at Caesar's Palace Las Vegas, NV to bring our bags to YOU. Oh, and did we mention as of October 2023, we are now also in U.N. - Torrance, CA at the Del Amo Fashion Center?! Check out more here.
Our Saturday House members have been asking to see us irl, and this is only the beginning. You will be able to feel the smooth vegan leather, appreciate the hand painted design, and compare our new 27CM to a 35CM bag. Which size fits your needs? And don't forget to check-out the satchel strap, lock/key keychain, and gold or silver hardware!
Once you visit us at the Forum Shoppes or at the Del Amo Fashion Center, tag us on socials and let us know if you like seeing our bags on a shelf near you. What other bags would you like to take a closer look at before you buy? Where should we go next?